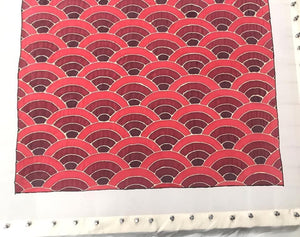 Silk Banner Workshop
$3500

$35.00
Tax included.
---
---
Silk banner Workshop - July 1, 2023
I have spaces available for 5-6 people to work on individual banner projects- choice of either 35" square or 15" x 60". The goal will be to complete the banner in one day with just the heat setting / banner ties remaining as a take home project.
I will provide the frame (for use- not to keep), pre-washed hemmed silk blanks, resists, and paint. This portion will cost $35. Each participant needs to have a correctly sized printed cartoon art to trace, or the deep desire to freehand. If you would prefer that I prep your art, I have two different options/price ranges available for my services. I will need copies of your base art at least two weeks in advance.
Registration deadline: May 20, 2023
there is no art fee if you provide your own, as stated above. If you would like my help with Art, I have two options.
Art fee basic: $25 I will take your image, clean it up, prep for tracing, and print to the correct size (you will be taping it together). If you are doing a square banner, this is typically one piece of heraldry. If you are doing a rectangular banner, this is up to four pieces of heraldry.
Art fee advanced: $75 if you would like me to layout a custom design that integrates your heraldry/art, this is the choice for you. I will touch base with you on this once and have it printed for the workshop. You will do your own taping.
Our workshop space is heated and there is a restaurant next-door for both food and bathroom. Our house is nearby as additional options for bathroom. Street parking is available.