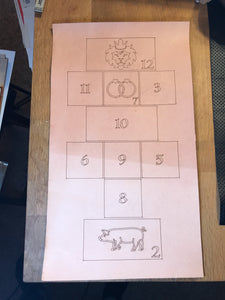 Glückhaus (rectangle)
$1850

$18.50
Tax included.
---
---
*Please note* This image is not accurate to the current design. The 10 and the 7 (Wedding) spots have switched places on the new version. The rules are also engraved on the outside edge now.
The classic gambling game of Glückhaus, designed and etched into 3oz leather for easy travel and play. You just need 2 six sided dice and a pile of tokens  (beads, coins, pieces) for each player. The instructions are etched right on the board! Game board is 9.5" round on veg-tan leather with light conditioning. Can be painted!
Can be upgraded to wood. 
This is a made to order product and may take a few days to ship.