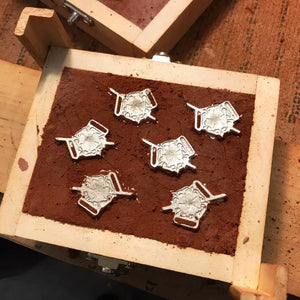 Pewter Casting Workshop
$2500

$25.00
Tax included.
---
---
Pewter Casting Workshop, February 11, 2023
I have spaces available for 10 people to learn pewter casting and do completed cast projects. This will run exactly like my previous SUN hands on class.
I will provide for use: wooden frames and delft clay, line tools, cleanup tools, pewter for 5 pieces, and a single casting master for your art, which you get to keep. This portion will cost $25. If you are interested in casting more than five of the same item, cost will be market value of the pewter by weight. If you're interested in more than one master, there is an additional art fee. I need all art two weeks in advance in order to prepare and test.
Registration deadline: Jan 27, 2023
Bronze casting add-on: the Masters created for the Peter class should in theory work also for bronze. If there is interest in bronze, I am happy to demo my process. If there is time, other people can try their hand. Bronze castings versions will also be priced by weight.
Our workshop space is heated and there is a restaurant next-door for both food and bathroom. Our house is nearby as additional options for bathroom. Street parking is available.